On Tuesday, my daughter and I drove in her car to Virginia to look for a new home for her family who is relocating from Texas. We expected rainy weather during our 3-day trip that included an 18-hour round trip car ride, BUT GOD had mercy on us. During the drive to and from Virginia and as we toured apartments and houses, He blessed us with blue skies, white clouds, and sunny weather.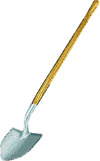 Not only was God gracious to us by granting favorable weather, He protected us in a far more noticeable way.
As we were driving on the highway to Virginia (well, actually I was driving at this point), a car directly in front of us suddenly swerved wildly. I immediately saw the driver had avoided an object on the road. I couldn't change lanes, as there were cars next to me on both sides. Too late... before I knew it, I hit the object! I was thankful my daughter was awake and witnessed the entire scene which took about 1 minute because I don't think I could have accurately described to her what had just happened. We (I) hit a shovel! As we (I) continued driving, my daughter thought the shovel remained under the car. When I glanced in the rearview mirror, I saw the shovel spin out from under our car, travel across the highway and end up on the tip of the grass on the side of the highway. Are you kidding me? How is it that we (I) hit the shovel and no one behind us or in front of us hit it? This wasn't a child's toy shovel ... no, this shovel must have fallen from a construction truck!
A short time later we exited the highway to get gas. We looked under the car to assess the damage. As far as we could tell, there was none. Are you kidding me? What could have happened DIDN'T happen. Someone could have drove over the shovel before me causing the shovel to come flying through our windshield! When we (I) hit the shovel, it could have caused us to 1) have an accident injuring us and our precious cargo, my baby granddaughter 2) hit a car next to me with a myriad of possible negative outcomes, OR 3) damage her car to the point that we were unable to complete our trip. BUT GOD was merciful! We didn't have any difficulties with the car during the rest of our trip and subsequent drive home. My daughter drove her car yesterday with no problems.
And yet, when we headed home on Thursday, people in Alabama, Mississippi, Tennessee, Georgia, Virginia, Louisiana and Kentucky were dealing with the aftermath of deadly tornadoes from the previous day that took over 300 lives and obliterated homes and commercial property in a matter of minutes, the second-deadliest day for a twister outbreak in U.S. history (
http://www.msnbc.msn.com/id/42813800/ns/weather/
). I don't understand how we had wonderful weather in Virginia while so many others experienced the storm of their lives. I had to search the scriptures. I read Job 38 in which the Lord says to Job:
24
What is the way to the place where the lightning is dispersed, or the place where the east winds are scattered over the earth?


25

Who cuts a channel for the torrents of rain, and a path for the thunderstorm,
34

"Can you raise your voice to the clouds and cover yourself with a flood of water?


35

Do you send the lightning bolts on their way? Do they report to you, 'Here we are'?


37

Who has the wisdom to count the clouds? Who can tip over the water jars of the heavens
The Lord continued to question Job in chapters 39 and 40. By Chapter 41, Job had to concede that he had spoken about things which were beyond his understanding. Job told the Lord he knew the Lord can do all things. And so, there are things that happen that are beyond my comprehension. I have to accept that the Sovereign God of our universe causes some things to happen and allows other things to happen. Sometimes He allows a shovel to enter our lives that could cause untold damage and then spins it away from us as quickly as it entered to remind us of His grace and mercy, especially in light of the storms that are surrounding us.
Father God, thank You for Your grace, mercy, the apartment we found for my daughter making our journey to Virginia worthwhile, and for joy in the midst of storms.