One of my favorite sayings is that "I'm abundantly blessed beyond what I could ask or think," my way of paraphrasing Eph. 3:20
*
. I say this frequently first because it's true and secondly, saying it out loud reminds me to not take my blessings for granted. 
Dad and Mom with me, August, 2010

In July a friend of mine from my former church posted a notice on Facebook about the passing of her mother. Today on Facebook, another friend from the same church posted that her mom passed away yesterday, August 31. I'm at an age where most of my friends' parents have died. I'm blessed, that while both of my parents have some health issues, they are alive and living on their own. What about you; are your mom and dad living? Then you're blessed! If they have passed on, you're still blessed because God provided us with the unique ability to remember our deceased loved ones.
My dear first cousin, has had surgery, chemo and radiation treatments in his battle with cancer and in July was in intensive care. In the midst of all he's going through, he continues to praise God. Another relative is experiencing the effects of Alzheimer's. He can't tell you what day of the week it is, but he's blessed to know his wife and live in his own home. A friend of mine, who is now a double amputee after four surgeries over the past year, hasn't ceased telling me how good God is. My mom is in constant pain, but when asked how she's feeling usually responds "I can't complain." In comparison all I have are some minor aches and pains that come from being over 50. I know that I'm blessed. What about you? Are you able to walk, talk, see, hear, dress and feed yourself; are most of your days pain-free? If so, thank Him, because like me you're abundantly blessed.
For the second time, my son has been deployed to Kuwait for a year-long stint that has taken him away from his wife and children. My nephew is in Afghanistan after previously serving in Iraq. He's away from his wife and children, too. My cousin is leaving leaving her two children here in the states as she leaves for Korea this week. She also served in Iraq. Another cousin is stationed in Germany after his recent deployment to Afghanistan. My son-in-law is in the Air Force and could be deployed. My young niece-in-law is in basic training in Oklahoma.
What about you
? Do you have any members of your family serving in the Armed Forces? Do you stay in touch with and pray for them? My husband and I have been abundantly blessed to have not lost any of our 30 or so active duty and veterans from a wartime conflict. Do you know how abundantly blessed our nation is to have those who willing to fight voluntarily to keep us safe from our enemies?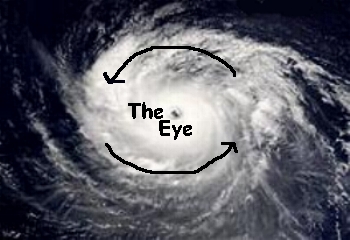 Over the weekend, Hurricane Irene barrelled up the East Coast affecting Connecticut, Delaware, Maine, Massachusetts, New Hampshire, Rhode Island, Vermont, Pennsylvania, New Jersey, New York, Maryland, Virginia, Washington, D.C., and North and South Carolina. Forty-five people died, millions of homes and business lost power, and some areas are struggling with severe flooding. My daughter lives in Virginia. Her home lost power for about 45 hours but didn't sustain any damage. My home wasn't touched by Irene in any way. What about you? Did Hurricane Irene cause you, someone in your family, your neighborhood, or your employer to lose power? I'm blessed to be connected to a source who never loses power and who the wind and sea obeys. Draw close to Him. In the midst of any storm you encounter, He will shield and carry you.
Although I know I'm blessed, I grumble and mumble about petty stuff from time to time. You know what? My Lord hears my grumbling just as loud as He hears me say "I'm abundantly blessed." It's a contradiction, right! I don't know why I let petty stuff annoy me and then make sure whoever is around me knows about it. I don't like this about myself. God knows this because He's omniscient. He knows everything there is to know about everybody and that includes me. He knows why I have this bad habit of grumbling. He knows why I tell myself I'm going to stop it but don't. What about you? Do you have some flaws in your character; are there some things that you don't like about yourself? Yet we're abundantly blessed anyhow because God is long-suffering, patient, forgiving, compassionate, and loving.
I'm sorry Father for my grumbling and mumbling. I know You know that I do know I'm abundantly blessed beyond what I could ask or think. Inspite of my tendency to grumble and mumble, I'm going to keep on telling (reminding) myself and others how abundantly blessed I am. Why? Because it is true no matter how much grumbling and mumbling I may do!
*Eph 3:
Now unto him that is able to do exceeding abundantly above all that we ask or think, according to the power that worketh in us